Cape Cod Bay Charters with the Stunmai II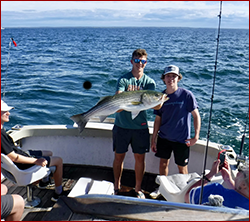 Come enjoy a day of fishing Cape Cod Bay aboard the Stunmai II with Captain Hap Farrell. The Stunmai II fishes out of Rock Harbor, in Orleans, MA.

Captain Hap has been fishing the waters of Cape Cod Bay for almost 30 years. His intimate knowledge of the Bay and all it's idiosyncrasies guarantees that your day on the water will be an enjoyable one. Whether a novice angler, or a seasoned pro, the captain and crew of the Stunmai II will do what it takes to get you "tight" on a big striped bass or hard fighting bluefish!

Captain Hap Farrell has made it his goal to provide some of the lightest trolling tackle used on any charter boat on Cape Cod Bay. In the past few years, Capt. Hap has learned to build his own fishing rods. He now has true custom made light tackle trolling rods for both wire jigging, and trolling rods using 12 lb test lead core line.
The Stunmai II carries both a variety of light tackle for your enjoyment, plus the heavier tackle used by most anglers in the area. This will give all the anglers on board a choice.
Follow the daily antics of the Stunmai II, as well as news, pictures, and reports of what is happening on the Bay by following Capt Hap on his "Rock Harbor Bandits" Facebook page, as well as the Fishing Cape Cod Bay Facebook page